Cascades Gardens: From Jungle to Paradise - Alan Clements
17th May 2021, 13:45 - 15:30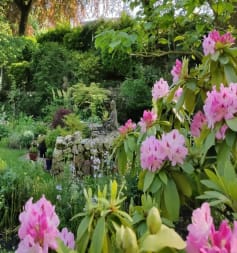 This talk describes the 22 year development of Cascades Gardens, a beautiful four acre garden in Bonsall, Derbyshire. Inspired by Japanese gardens, Alan discusses the construction and planting of the garden in his attempt to create a natural garden for peace and relaxation. Photos of the wild landscape 40 years ago and other before and after pictures are shown. Gardening issues are discussed and there are pictures of the cascades, the nursery and flowers throughout the seasons.
You will need to preregister for this meeting.
Details on how to preregister will be sent to members by email in the week before the meeting. Click on the link and complete the registration form and you will receive a further email with joining instructions.
Please join the meeting around 1:45pm. The entertainment will start promptly at 2pm.
---